Jim McGowan began his singing career in 1945 along with childhood friends Teddy Williams, Billy Raynor and Jim Mobley. They developed a jubilee style of harmony reminiscent of the Golden Gate Quartet and concentrated on the old bible spiritual songs. In the early days they sang on the corners, AT social events and often frequented the storefront churches' that proliferated Brooklyn. They originally called themselves the "Starlight Toppers".
Under the management of Mrs. HATTIE BRISBANE, who encouraged them to sing POP, this same group was renamed the Four Toppers. They made their Pop debut at the Brooklyn Academy of Music in February of 1952. However, due to the Korean War, Billy Raynor and Jimmy Mobley were drafted, and this group of Four Toppers were forced to disband.
They emerged once again in 1953, the same name (Four Toppers), but two different personnel, Gordon Payne and Hal Miller replaced Billy Raynor and Jimmy Mobley. However, due to illness, Jimmy McGowan became hospitalized, and this group also disbanded.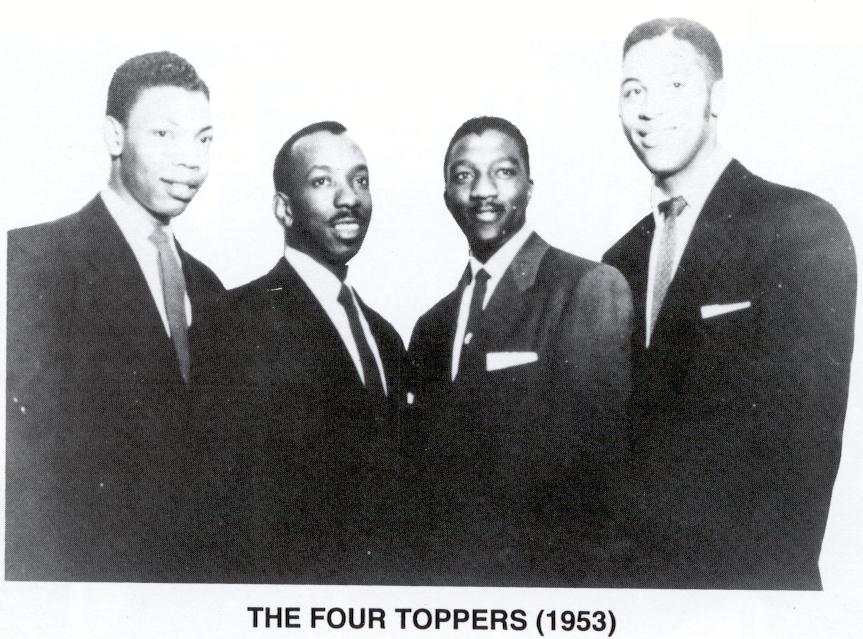 By 1954, David Jones and Larry Banks, returning from the Korean War, convinced Jimmy McGowan to sing again and, together with Jimmy Bekum they formed the Schemers, Jimmy Beckum (lead), Jimmy McGowan (second tenor), David Jones (first tenor), and Larry Banks (baritone/bass).
Jimmy Beckum had sung with a local teen gospel group, the Brooklyn Crusaders. (Most black spiritual music had been referred to as gospel music, while jubilee was a type of spiritual that usually stressed group singing rather than emphasizing a lead singer. Jubilee was also the name for secularized versions of black religious songs for concert audiences before it was termed race music.) Larry Banks, the group's driving force, had been influenced by the barbershop style since his father had sung with the Dunbar Barbershop Quartet,
The Schemers made a few personal appearances, but difficulties in the group caused another breakup. Undismayed, the remaining members recalled Teddy Williams from the old Four Toppers to sing bass. Adopting the style of the Mills Brothers, they decided to have no lead singer. David Jones (first tenor), Jimmy McGowan (second tenor), Larry Banks (baritone) and Teddy Williams (Bass). By 1954 they were renamed the Four Fellows by their new manager, Jimmy Johnson, who got them appearances on Ralph Cooper's "Spotlight on Harlem," TV Show and the Jamaica, Queen's Club Carib.
Their first recordings were done for Derby Records through A&R man "Ace" Adams; they did one unsuccessful single called "I Tried" backed with "Bend of the River." Meanwhile, the group was regularly appearing on "Spotlight on Harlem", often alternating with the Cadillacs. A new agent, Teddy "Cherokee" Conyers (baritone sax man for Buddy Johnsonís Band), had them record the Frank Loesser oldie "I Wish I Didnít Love You So' backed with Regina Adams's (Ace's wife) song "I Know Love." and took it to Coral Records exec Phil Rose. Rose was starting his own Glory label and the Four Fellows became the first act on it.
"I Wish I Didnít Love You" was their first release in 1955. In addition, the group was quickly paired with Betty McLaurin for "So Will I". Neither record broke onto the charts.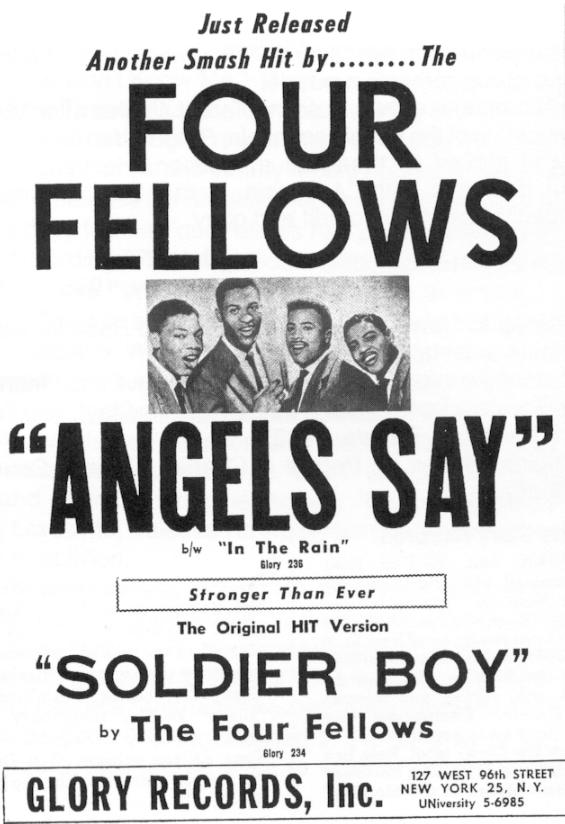 A breakthrough came when Phil Rose, after rejecting every song in their repertoire for a next single, hit upon a song called "Soldier Boy' that David Jones had written while serving in Korea. Phil moved McGowan into the lead and on July 2, 1955, "Soldier Boy' slipped onto Billboard's national R&B charts, rising to number four while remaining visible for 15 weeks. The Four Fellows then performed in Alan Freed, Hal Jackson, and Dr. Jive's shows, as well as on the black theatre circuit (including the Apollo theatre and the Brooklyn Paramount) with acts like the Moonglows, Etta Jones the Nutmegs, Gene and Eunice, and Bo Diddley.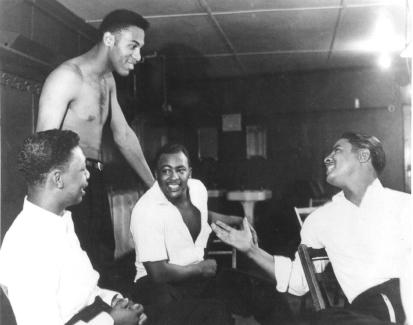 (Prior to a show in Philadelphia)
More beautiful ballads were released in 1955 and 1956 - "Angels Say," "In the Rain," "Darling You," and "Please Play My Song" but the group never again came close to the success of "Soldier Boy." Their last single had them backing up Toni Banks on "You're Still in My Heart." Toni was originally Bessie White, who had sung with the group for a short while when they were Three Guys and a Doll prior to becoming the Four Fellows. Bessie later married Larry Banks onstage at the Royal Theatre in Baltimore.
In April 1956 David Jones left to join Hal Miller and the Rays. Jimmy Mobley of the Starlight Toppers took his place starting with the group's "Please Play My Song."
By the end of 1956 Larry and Jimmy had left, replaced by Gordon Payne and Alvin Scot (Payne had been with the Four Toppers)
The last lineup of McGowan, Williams, Payne, and Scott recorded an LP as backup vocalists for Josh White. They then broke up.
Payne moved to California where he died in 1974. Teddy Williams and Alvin Scott went to work for the New York Transit Authority and live in Brooklyn. Jimmy Beckum moved to North Carolina and Jimmy Mobley passed away in the '70s. Larry Banks passed away in the '90s, Toni Banks recorded as Bessie Banks on Tiger. A song she recorded titled "Go Now," written by husband Larry, became the tune that kicked the Moody Blues' career into gear in 1964. Jimmy McGowan was stabbed in a gang fight in 1951 and became permanently disabled, yet he graduated from Temple University with a B.A. in psychology (1978) and began a career in cytotechnology (the study of human cells for malignancies).
In May of 1979 the Four Fellows (Jimmy, Larry, Dave, and Teddy) reunited for an evening of song ranging from Fellows tunes to spirituals at a United in Group Harmony show in New Jersey.
In 1980 Ronnie L, founder of UGHA, issued a 1956 live performance of "Soldier Boy" on his own UGHA label, making it the first released record of the foursome in 23 years. The flip was a newly taped a cappella recording of the Clovers' "Skylark."
In 1998, Jimmy McGowan and the Four Fellows were inducted into the United in Group Harmony Associationís (UGHA) 8th annual Hall of Fame. Jim graced the stage one more time and with some help from the Sheps (acappella group) sang "You Donít Know Me" and, of course, "Soldier Boy".