TELEDUCTIONS, a Wilmington, Delaware, film company, is doing a documentary based partly on Jimís biography of Thomas Garrett. Itís entitled "Whispers of Angels"
Thomas Garrett was a birthright Quaker, born in Upper Darby, Pennsylvania. In 1822 he migrated to Wilmington, Delaware, where he went into the mercantile and Iron hardware business, and set up his home as a station on the Underground Railroad. He is estimated to have assisted some 2,700 runaway Negro slaves to freedom. His trusted friend, and most frequent visitor was the most famous of Underground Railroad conductors, was Harriet Tubman.
| | | |
| --- | --- | --- |
| | | Jim on set talking with actor Ed Asner. |
TV star, Ed Asner, is playing Thomas Garrett, and Blair Underwood (the "Jackie Robinson Story," "Tuskegee Airmen," etc) will be playing William Still, another famous Underground Railroad Station Master. Teleductions is hoping to get Woopi Goldberg to play Harriet Tubman. Most exciting is that Jim has been asked to narrate the film!! The photograph in this section is of Jim with Ed Asner (and an unknown lady) during the filming of the 1848 trial of Thomas Garrett (In New Castle, Delaware) for helping slaves escape. The production has been underway since January, 2001, and should be ready for public viewing during Black History Month, 2002. You can get an overview of the production at http://www.teleduction.com/

In November of 2000 Jim was interviewed by the HISTORY CHANNEL, theyíre doing a special on Route "1." It appears that route ran through a number of stations on the Underground Railroad, including Wilmington, Delaware, the home of Thomas Garrett. Jimís contribution, of course, was about Garrett. The History Channel should be airing that show, shortly. Stay tuned.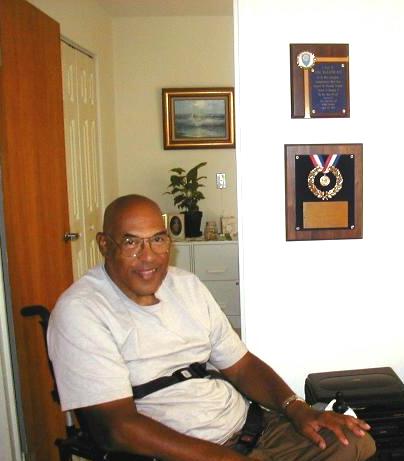 Also, Jim is one of the founders and currently serves on the Board of Directors of the Mills Brothers Society. He also serves on the Board of Advisors of the Chester County Historical Society. Jimís most important undertaking at this time, however, is that heís writing his memoirs.
For information about the Mills Brothers Society please write, e-mail or call:The Mills Brothers Society 604 North Market Street Mechanicsburg PA 17055-2727 millsbros1@aol.com www.cumberlink.com/mills